A full suite of assessments to comply with federal certifications, privacy legislation, and more.
Are you a contractor or subcontractor of the Department of Defense? Do you fall within scope of NIST cybersecurity standards? Do you conduct business in California, Colorado, or Virginia? There is a litany of standards, assessments, and compliance requirements that organizations are faced with across industries. Truyo has developed the ultimate framework assessment solution to give you one tool to complete, manage, and report on cybersecurity and privacy compliance.
Truyo. Always compliant, always ready.
Request More Information or a Demo
Request more information on our Framework Assessment Module.
Streamline the Way You Approach Assessments
Our cross and pre-populating assessment platform allows you to complete and manage the following types of assessments:

NIST


CMMC

Privacy Impact
Assessments

and Many More Coming Soon
Achieve Compliance with Standards Your Company Needs to Meet
Whether you need to complete NIST assessments, meet ISO requirements, or prove cybersecurity maturity through CMMC or SOC2, we have you covered. Our library of assessments is always growing – but the one thing that stays the same is our cross and pre-population with other standards and your organization's data.
Request More Information or a Demo
Request more information on our Framework Assessment Module.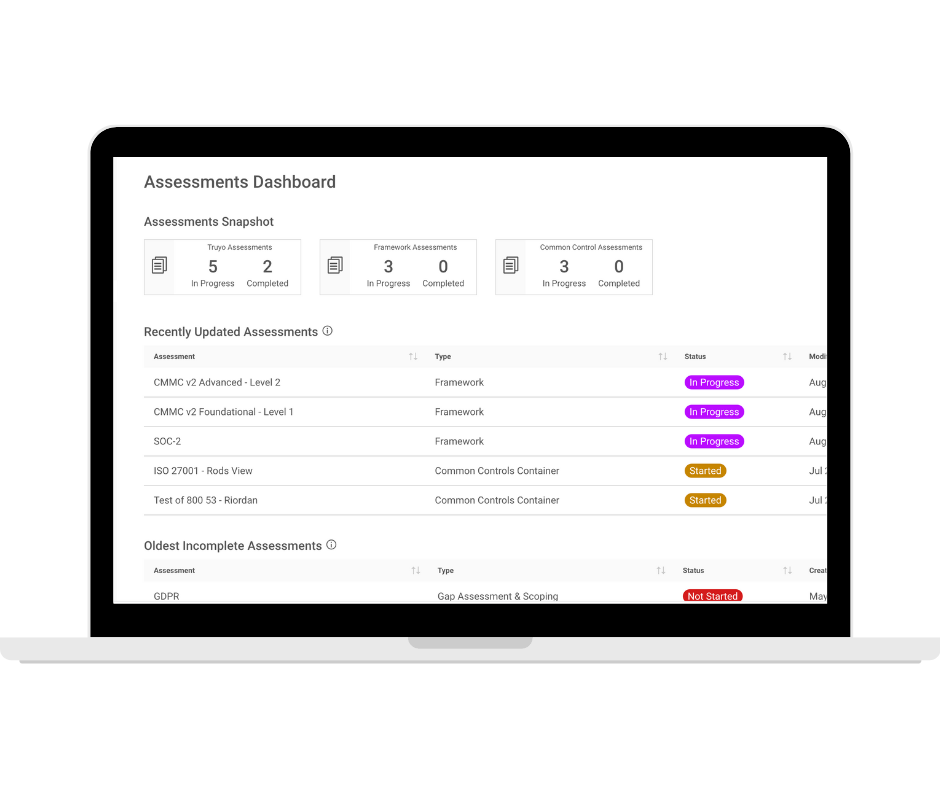 Comprehensive Assessments & Self-Attestation
Depending on which standard you are required to meet, a lengthy assessment or self-attestation may be required. Beyond our cross-population to other completed standards and pre-population data sources like Egnyte, we make the process smooth and painless through an easy-to-use, web-based framework assessment platform. Complete your objectives, archive important information for audits, identify gaps, and achieve compliance all in one place.
Enhanced Templates
We provide all of the necessary area control objectives in the way of configuration setting templates that reflect security control settings mapped directly to the identified controls for the framework assessment you need to complete. Our NIST and ISO assessments, along with our CMMC 2.0 guided assessment, have been reviewed by nationally-renowned lawyers and certified auditors for accuracy and an impeccable framework assessment tool.
A Full Suite of Assessments
Not only is our framework assessment library constantly growing, but we rounding out our comprehensive suite of assessments are compliance assessments for upcoming legislation. The California Privacy Rights Act assessment requirements, along with the Colorado Privacy Act and Virginia Consumer Data Privacy Act assessment requirements are within scope of our product. Assess your organization's compliance with privacy legislation and the privacy maturity of your vendors with whom you share consumer data as enforcement ramps up.
Explore Our Other Purpose-Built Solutions
Truyo has you covered.
Stay informed on the latest in data privacy, consent management and health data with our free, on-demand resources and webinars.