Partner with Truyo, the market-leader in privacy rights automation and health-check management solutions. Expand your offerings, increase revenue, or gain discounts for your clients.
The Truyo partner network is designed for MSSPs, MSPs, systems integrators, law firms, consulting firms, legal tech companies, IT software and hardware resellers, and other companies providing compliance, security, and wellness solutions.
No joining fee, and a simple, transparent partner program structure to meet your needs.
PRIVACY RIGHTS MANAGEMENT
With the arrival of the California Consumer Privacy Act (CCPA) and further US State laws on the horizon, companies need a compliance solution for the potential onslaught of consumer rights requests.
HEALTH-CHECK MANAGEMENT
Truyo is helping companies get back to business in the midst of COVID-19 with multiple state-of-the-art temperature scanning solutions to choose from.
Referral
Attractive referral payments are available for introducing a Truyo platform to your clients. With the introductions complete you can let our experienced enterprise sales team take the reins from demo through to managing the contracts process.
Reseller
Add a Truyo platform to the solutions available to your clients. Attractive reseller payments are available to VARs and SIs looking to expand their portfolio with our market-leading privacy rights or health-check management solution. Option to join the Platinum Reseller Program with additional benefits for larger volumes and annual minimum revenue.
Client Discount
If your primary goal is just to put the best technology/hardware solution in front of your clients we can convert any partner commission into a discounted rate for your clients.
Distributor
Bring a Truyo solution to your existing reseller network and leverage the benefits of the Truyo Partner Network at scale.
All partner levels include becoming a part of our network of consulting and implementation partners with opportunities for additional projects from Truyo clients.
4 Reasons to Join the
Truyo Partner Network

Proven Solutions
Gain access to market-leading software and hardware solutions.

Dedicated Training
Quickstart guides, demo site access and customized webinars so your team can learn fast.

Increase Revenue
Recurring SaaS subscription revenue and opportunities for privacy consulting and implementation work with Truyo clients.

Demonstrate your Expertise
Partner Certification Program coming in Q3 2020.
About Truyo
Powered by Intel®, an IntraEdge product, Truyo is the automated answer for companies seeking to automate subject rights requests, consent, and other data privacy rights for CCPA, GDPR, and emerging data privacy laws. Truyo is also a market-leader in health-check management through partner and proprietary hardware and software solutions.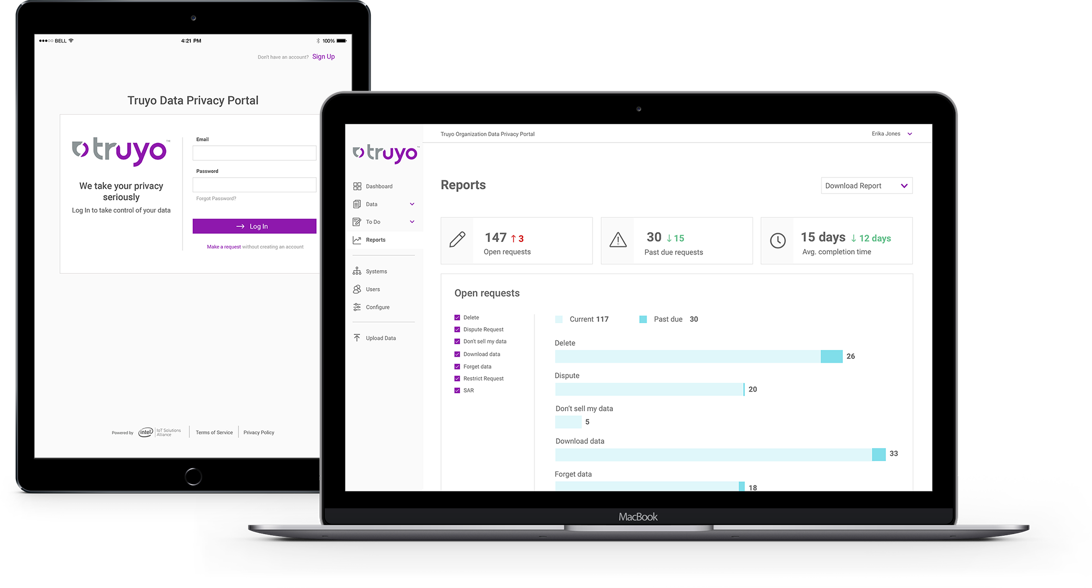 Partner with Truyo, the market-leader in privacy rights and health-check management solutions.
Your Benefits:
Expand your offerings
Increase revenue
Gain discounts for your clients