Get Back-to-Business
As businesses reopen, corporate offices and well-gathered spaces must keep health and wellness top of mind as they adapt to stricter, social distancing, and contactless health guidelines before they can reopen.
To adapt to these new guidelines in the workplace, Truyo can help you get back-to-business with state-of-the-art contactless health-check management solutions that prioritize user privacy.
Fast, contactless
Highly accurate temperature reading
Configurable UX
Robust reporting
Back-end system integrations (Ex. KRONOS, ADP, Azure Active Directory, WorkDay, S2 Security, OpenPath, Brivo)
Privacy and security by design
Variety of hardware options
Two Temperature-Checking Solutions
Truyo enables you to choose the temperature solution that fits your needs along with multiple hardware options. No other solution offers this range of customization in your thermal solution. Both solutions are powered by Truyo for data privacy management.
QuikSense is a standalone thermal sensor giving you the ability to read temperatures from the wrist to maintain a contactless experience. QuikSense is USB powered and can be used with existing hardware such as a desktop or laptop computer or kiosk. QuikSense is FDA certified IEC 80601-2-59-2017 specification.
janus is an enterprise-grade kiosk using thermal scanning for a contactless experience. Mix and match your solution with a thermal camera or wrist sensor.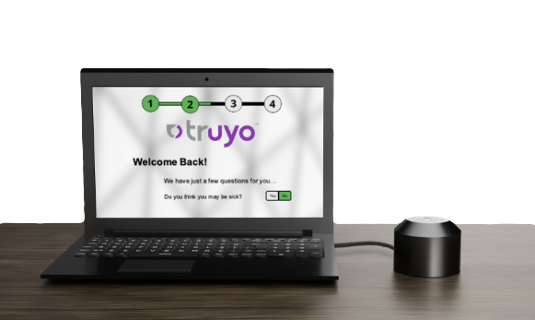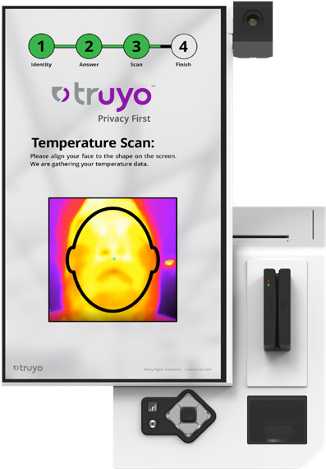 Health-Check Management Platform
Truyo allows you to manage and customize the user experience such as configuring the appropriate temperature thresholds that meet your preference or local regulations.
Configuring health questions are a simple task within Truyo's Organization Portal.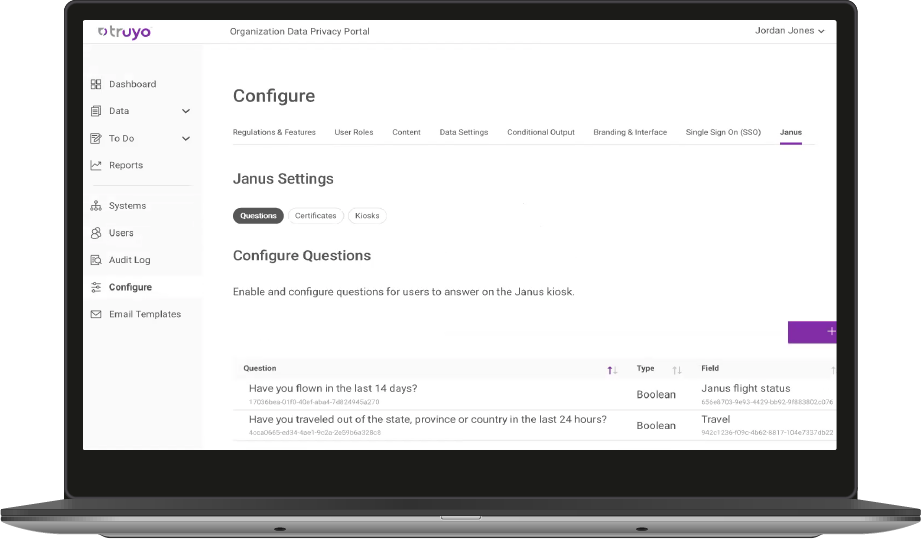 Features & Benefits
Comprehensive Screening
Configurable role-based health screening questionnaires integrated with state-of-the-art, highly accurate temperature scanning
Enterprise Reporting
Real-time reporting, trend analysis, and alerts with integrations for HR, Payroll, Access Control, and 100+ enterprise applications
Proven Security & Data Privacy Controls
Built from the ground up to protect sensitive data with complete encryption. Powered by the Truyo Privacy Rights Platform co-developed with Intel to insulate your company from sensitive health data risks while reducing compliance costs